CEREC Technology | Lawndale CA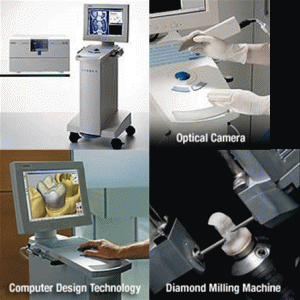 Single-visit Crowns, Onlays and Veneers with CEREC
CEREC is a revolutionary way to restore damaged teeth. Dr. Tabibi is pleased to offer our patients CEREC restoration services—a superior method of creating precisely-designed, color-matched and highly durable ceramic restorations right in our practice. From simple fillings, to full crowns to porcelain veneers, CEREC delivers the results you need and can often be offered in a single appointment.
Get Yourself Ready for a Bright, Beautiful Smile!
How does CEREC work?
After examining the tooth and determining the course of treatment, Dr. Tabibi will coat a thin layer of reflective powder to the damaged prepared tooth surface. CEREC then uses a state-of-the-art digital 3D camera to create an optical impression. This digital image replaces the physical impression required in traditional procedures. No more long waits while a tray of impression goop hardens in your mouth. State-of-the-art CAD software allows Dr. Tabibi to design every precise detail of you restoration with the accuracy you've come to expect from use. The software allows us to customize the shape of the restoration to exactly fit the particular needs of the damaged tooth.
Once the restoration has been designed on the computer, technological magic happens! While you wait, exact design specifications are sent to our on-site milling machine to create your restoration. About 15 minutes later, your all-ceramic, color-matched restoration is ready for placement. Your new restoration is then fitted, polished and bonded for permanence. Your tooth is restored back to its natural form, function and beauty.
What advantages does CEREC technology have for you?
Single visit onlays and crowns. Since Dr. Tabibi is able to design and fabrication the restoration immediately rather than sending an impression to a laboratory, you do not need to wear a temporary and return for a second appointment
| | |
| --- | --- |
| | Patient desired to have amalgams replaced on teeth #2 through #5 to improve buccal corridor alignment. |
| | Prepared teeth are digitally scanned and designed on the computer. |
| | A ceramic hybrid layered block is used to mill out computer design restoration. |
| | Final restored teeth are ready to "perform and look like natural teeth". |
| | After |
Metal-free dentistry. Health minded people are increasingly becoming concerned with metal in the mouth (particularly mercury). A CEREC tooth restoration isn't just convenient, it is also healthy. Many years ago, dentists had few options to repair decayed and damaged teeth other than amalgam, gold, and other metals. With CEREC, Dr. Tabibi uses strong, tooth colored ceramic materials to restore your teeth to their natural strength, beauty, and function. These materials closely match the composition of natural tooth structure. This means when you eat hot food and then drink something cold, the restoration and tooth expand and contract at almost equal rates. So, your tooth does not crack, and you can go on enjoying your evening. Also, the materials are chemically bonded to your tooth, so Dr. Tabibi can save as much healthy tooth tissue as possible while providing you with a dental restoration that strengthens your tooth. The CEREC enamel like material is biocompatible with the tissues in the mouth and provides a high-grade, anti-abrasive and plaque-resistant finish.
Before
Patient desire to have broke teeth repaired and remaining mercury fillings replaced to prevent the risk of further breaking more teeth.
After
In one visit with CAD/CAM dentistry, the mercury fillings were replaced and broken teeth restored with enamel hybrid ceramics
Your Appointment:
The old filling is removed along with any additional decay.
A conditioning gel is placed on your tooth to prepare it for the new onlay.
Bonding cement is placed on the tooth and a high intensity light bonds the resin to the tooth.
The tooth is then polished.
Your teeth are restored to a natural look and feel, they are stronger and the tooth is protected!